C++ APIs to manipulate Excel spreadsheets
Create, read, edit or convert Excel spreadsheets including XLS and XLSX formats without installing Microsoft Excel.
  Download Free Trial
Aspose.Cells for C++
Create, read, edit and convert Excel spreadsheets programmatically without relying on Office Automation or Microsoft Excel application. Aspose.Cells for C++ is a native C++ library that offers a set of high-level APIs for most commonly used spreadsheet formats such as XLS, XLSX, XLSM and XLSB in C++ language.
At A Glance
An overview of the main conversion and manipulation capabilities of Aspose.Cells for C++.
Load/Save Spreadsheets
Data Manipulation
Built-In Properties
Custom Properties
Themes
Styles & Formatting
Data Validation
Conditional Formatting
Hyperlinks
AutoFilters
PageSetup
Reading, Writing Formulas
Formulas Calculation
Grouping of Rows & Columns
PivotTable
Tables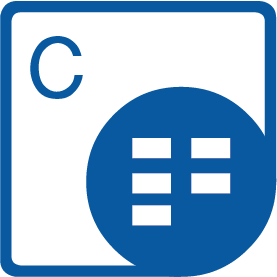 Platform Independence
Aspose.Cells for C++ fully supports C++ applications developed in Windows platforms.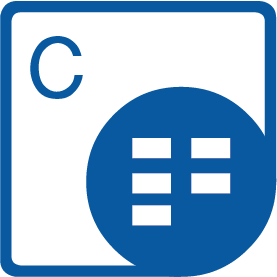 Supported File Formats
Aspose.Cells for C++ supports XLS, XLSX, XLSB, XLSM, CSV and Tab-Delimited file formats.
Microsoft Excel: XLS, XLSX, XLSM, XLSB
Text: CSV, Tab-Delimited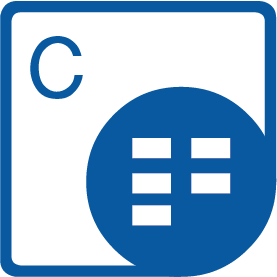 Previous
Next
Advanced C++ Excel Spreadsheet API Features
Unlike similar products from other vendors, Aspose.Cells for C++ not only supports spreadsheet generation and other basic file formatting features, it also supports a number of advanced features. These advanced features make it much easier for developers to manipulate spreadsheet contents and format cells. Aspose.Cells for C++ includes the following features:
Ability to save and open Excel files to and from streams
Apply data validation to restrict the type of data or the values that users enter
Organize your data by grouping rows and columns
Manipulate built-in and custom properties with great ease
Insert hyperlinks to quickly access related information in another file or on a Web page
Insert pivot tables to summarize, analyze, explore, and present your data
Change the look of your workbook using themes
Filter data by using an AutoFilter and quickly find your desired values
Create tables and list objects to manage and analyze a group of related data
Apply styles and formatting to beautify Excel worksheets or parts of worksheets
Fine-tune the page setup in a few simple steps
Read and write complex formulae easily
Create conditional formatting rules to quickly highlight important information
Zero dependency on Microsoft Excel
Aspose APIs are totally independent and are not affiliated with, nor authorized, sponsored, or otherwise approved by Microsoft Corporation. Aspose.Cells for C++ does never need Microsoft Office or Microsoft Excel to be installed on the machine to work with Excel document formats.
Continuous integration of new features
You are never restricted to existing features. Our product teams are continuously adding more and more features and every new version offers more features as compared to the older versions. You can also send new feature requests if you find any of your desired features missing.
Convert between XLS and XLSX formats in no time
Converting XLS to XLSX and XLSX to XLS is as easy and simple as a two liner code. Despite the complexity of document conversions in C++, Aspose.Cells for C++ makes it possible for you to convert between XLS and XLSX formats in just two lines of code.
Support For Office Open XML
Office OpenXML (OOXML) is the XML-based format that was introduced into Microsoft Office 2007. Microsoft Office Excel 2007 and above store the spreadsheets in XLSX format. Aspose.Cells for C++ extensively supports creating, reading, manipulating and writing XLSX documents.
Support and Learning Resources
Why Aspose.Cells for C++?
Aspose.Cells offers individual Excel APIs for other popular development environments as listed below: